Hey everyone, thought I'd break the ice by saying hello.   Actually take away the ice, it's getting cold already and replace it with something else, cake would be a good alternative!  I'm going to be the guest blogger for festival,  it's my very first blog and time coming to the festival so please be gentle with me.
I've got a good excuse for missing the 13 other editions, I'm from England (you can now read the rest of this inside your head with a posh British accent) Think of me as your very own snooty butler bringing you a first timers perspective of Reel Asian.
As you can see from my user name I'm Jon from a project called Made in Canada which is all about celebrating the tremendous talent the country has to offer through a documentary with the same name.  It was on this project that I met Suite Suite Chinatown's Joyce Wong.
When I was asked to contribute I jumped at the chance but walked away thinking what do I have to do with this style of cinema,  I'm no expert what am I going to write?  I tapped my head a few times before the light bulb started to glow.  I am a fan!
Back when I was a teen I worked in a Chinese restaurant for a couple of delicious years.  It was here on a quiet shift that I picked up a paper and read a review of Ringu 2 playing in art house cinemas.  The plot intrigued me enough to jump online and buy the original movie and the sequel.  It came from Malaysia on Video CD.  The poor pixelating quality added to the feel of the film and I was sitting way too close to the TV screen for the climax of the movie.  The lights stayed on that night.  It was great to be all smug when J-Horror got popular and the remakes came-a-pouring out the US.
Well that's my awkward introduction done…
Tonight will be opening gala of Gallants which looks a lot of fun.  Old people kicking butts is a recipe for awesomeness if I ever heard.  My favorite character in Kung Fu Hustle was the Landlady.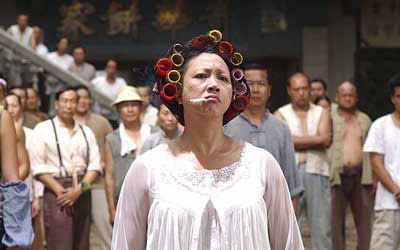 I never got to see Red but think the cast of Gallants could easily wipe the floor with Bruce Willis and co.  Respectfully speaking of the elderly I became obsessed with the trailer for this years festival.
2010 Reel Asian Festival Trailer
Can't wait to see what Asian Elvis wears on the red carpet with a glammed up granny on his arm!
Tweet me! @MICbites
Tweet the Festival! @ReelAsian
Don't forget to hash tag #RA2010